Pareto Anywhere

connects the hardware and software platforms you know and trust, transforming ambient data into contextual, actionable information.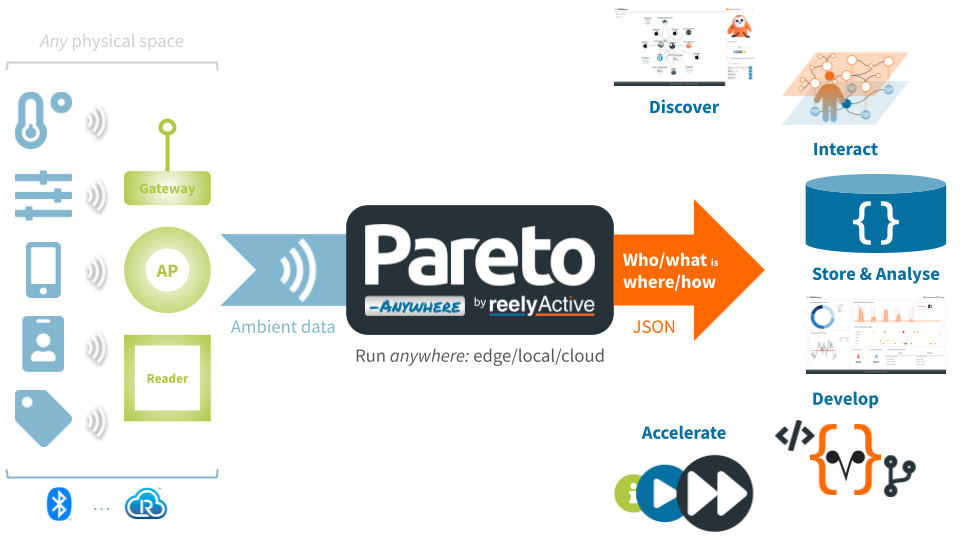 Pareto Anywhere is
continuously-evolving middleware

, uniquely combining a lightweight, modular architecture and a permissive license so that it may run anywhere and make any physical space context-aware.
Continuously-evolving
As the sources and the nature of ambient data in physical spaces continuously evolves, so too does Pareto Anywhere.
This enables Pareto Anywhere to make the most sense of
who/what is where/how
in any physical space regardless of the radio-identifiable devices and technologies present, both today and in the future.
Currently supported
Ambient Devices
Tags, badges, mobile, wearables, beacons, sensors, ...
Ambient Infrastructure
Gateways, anchors, access points, luminaires, ...
Technologies
Bluetooth Low Energy, RAIN RFID*, WiFi, UWB*, proprietary, ...
* in development
Open Architecture
Vendor-agnostic. Technology-agnostic.
Pareto Anywhere's open architecture enshrines compatibility with any hardware or software, regardless of vendor or technology. And Pareto Anywhere itself is composed of lightweight software modules that are easily recombined to satisfy a specific feature set, or duplicated to achieve scale.
Free as can be
Pareto Anywhere is free as in free of cost to use.
Pareto Anywhere is open source and free as in freedom:
Freedom of access
Freedom to modify
Freedom from lock-in
These freedoms stem from the permissive MIT License which you can (actually!) read in its entirety below:
Run-anywhere
Pareto Anywhere is written in JavaScript for Node.js enabling it to run just as readily on a resource-constrained embedded computer as on a powerful server.
You can even run Pareto Anywhere right now:
Pareto Anywhere + Elasticsearch + Kibana
Pareto Anywhere features seamless integration with the Elastic Stack, allowing the contextual data to be stored anywhere for easy analysis by anyone.
We won an Elastic Search Award for this integration!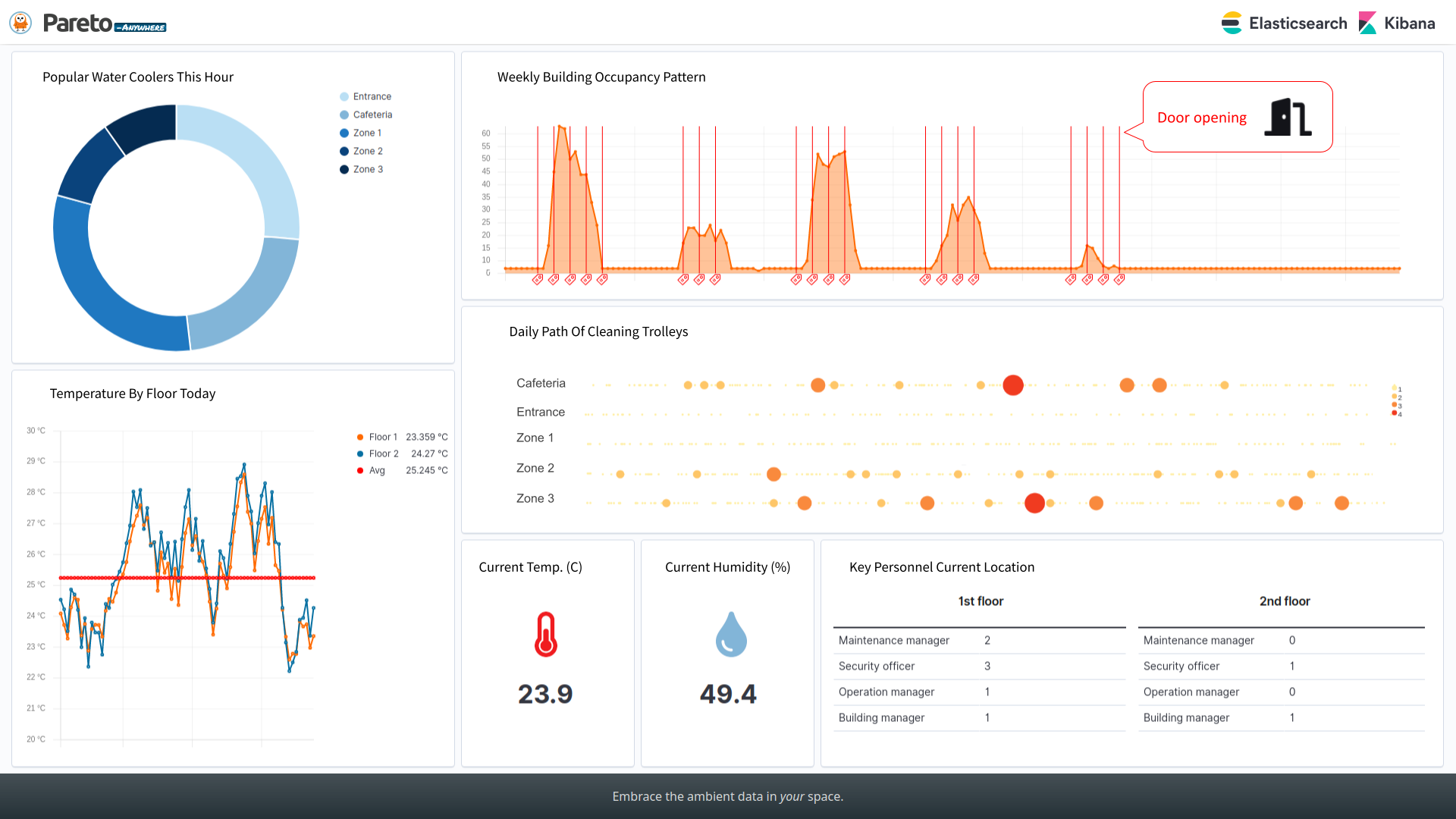 For Enterprise
For most enterprise clients, Pareto Anywhere will simply run transparently in the background, providing an endless stream of contextual information that will be acted upon through analytics dashboards and other familiar interfaces.
A Pareto Anywhere instance is included in every Breakthrough package, which is the ideal starting point for most enterprise clients:
For Integrators
For most technology integrators, Pareto Anywhere will represent a key element in the solution stack, enabling either or both:
value-added contextual applications leveraging existing hardware and software deployments
novel context-aware solutions
Integrators enjoy unconstrained access to our expertise and support via our Beyond Integration subscription: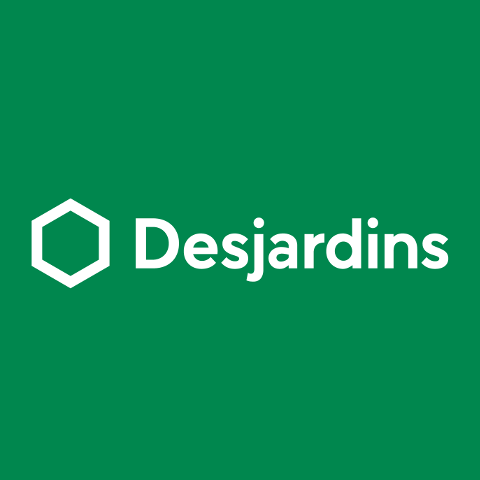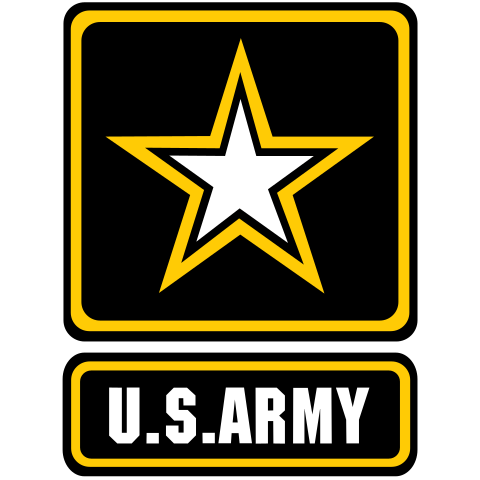 Case studies
Organisations, both big and small, successfully apply Pareto Anywhere to:
Business outcomes
Technical integrations
Questions?
Yes
More specifically, Pareto Anywhere is a platform for
radio-identifiable
things which it identifies, locates and senses to determine the real-time context of who/what is where/how.
Yes
However, unlike a traditional RTLS, Pareto Anywhere locates
any
radio-identifiable device using
any
gateway infrastructure, promoting interoperability over lock-in.
No
Pareto Anywhere is a lightweight middleware that is typically installed and operated by an integrator or the client themselves. For convenience, we may nonetheless operate an instance of Pareto Anywhere for a client as part of our
Breakthrough
package.